Attention, seltzerheads: The Worcester-based Polar Seltzer company has announced five winter limited-edition flavors — and one apparently was inspired by Meghan Markle.
Two of the flavors might be familiar to devoted seltzer followers: Ginger Lime Mule and Cranberry Cider. Three other flavors are new, including Hibiscus Cloudberry, which "shines a light on the humble cloudberry while offering touches of exotic tartness;" Vanilla Zen, which is "a resplendent recipe of noble vanilla with serene touches of pomegranate" (and is inspired by Markle, who apparently loves vanilla-flavored smoothies); and Blackberry Clementine, which the company describes as a "jam-licious wonder."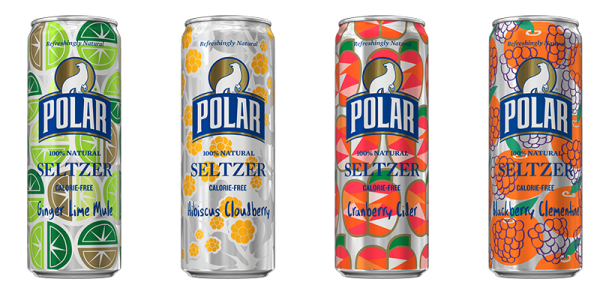 Polar says the collection "is bright and hopeful, a gift from New England where winter sparkles."
The first batch of limited-edition bubbly shipped out Friday, so the new flavors should be in participating local stores soon. To find a store that carries them, Polar recommends calling your local grocer and asking to speak with the store manager: "Most will be able to order these Limited Edition items . . . well, that's before they sell out."
Polar Seltzer's limited-edition lines tend to get people to their grocery stores in droves. The quest to snag onetime flavors produced by Polar Seltzer began in March 2016, when the company released its limited-edition Unicorn Kisses flavor. Only 5,000 cases of the beverage were released leading up to April 1, or April Fools' Day, and as supplies dwindled, people started selling the drinks online for upward of $100.
The mass hysteria over the drinks also seems to fall in line with a recent spike in seltzer's popularity. Roughly 168,000 million gallons of seltzer are consumed annually, according to a 2016 Globe report. That same report said the Nielsen research group tracked a 21.6 percent spike in seltzer purchases in 2015.
---
Original Article Appears in The Boston Globe:
https://www.bostonglobe.com/lifestyle/food-dining/2018/10/02/here-are-new-limited-edition-polar-seltzer-flavors/LqePHAWTgFmmy0dG0HlPgN/story.html